Are you ready to get started but don't have the supplies you need?
Here We Grow Again can help!
To make it easier for our consignors, we have compiled a "Grow With Us" Consignor Starter Kit that contains items you will need to start tagging and making money!
It includes:
A tagging gun and 200 fasteners (more fasteners available). No need to mess with safety pins any more. We are offering our consignors the option to use a tagging gun to secure your tags on items. It is a faster and easier way to tag your items!
50 wire hangers
144 Assorted safety pins (to hang small clothes on hangers or attach 2-piece outfits together)
Cardstock paper-enough to print 100 tags (8 tags to a page)
Ziploc bags-assorted sizes
Ribbon-to secure shoes and other items together
Printouts of quick tips, full instructions, pricing guides, and more
A box to keep it all together!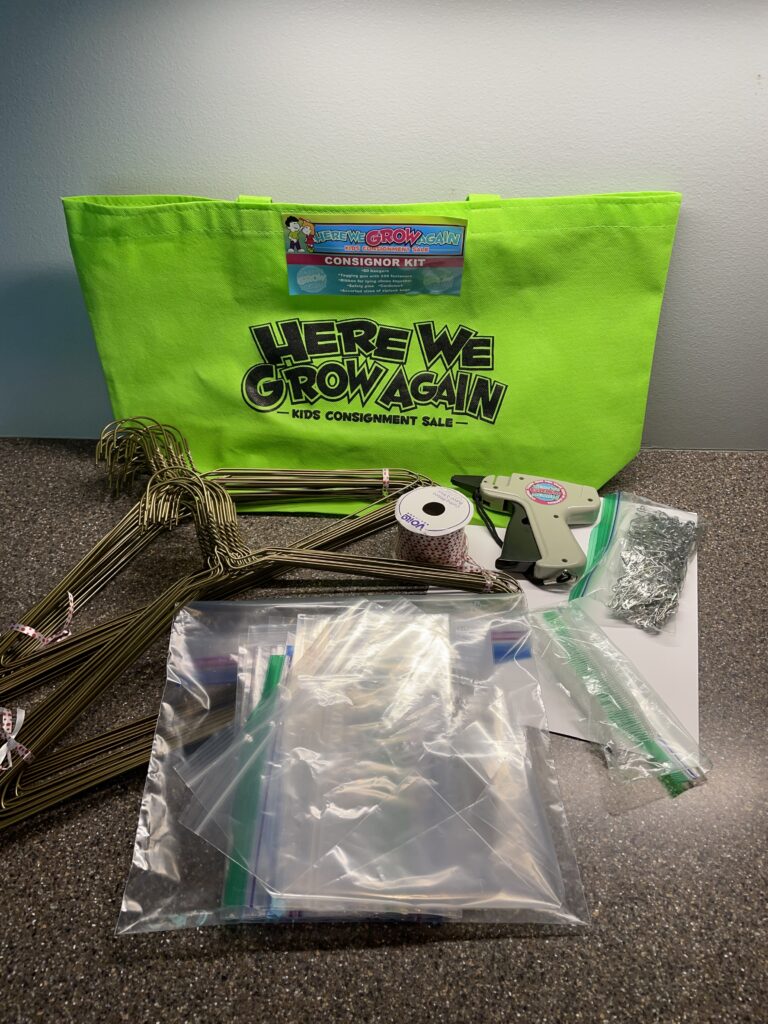 YOUR COST IS ONLY $25!
Email us and we will arrange for you to pick up our "Grow With Us" Consignor Kit or we will mail it to you (shipping charge is additional charge). Or, stop by one of our Tagging Parties where we have consignor kits/supplies available for purchase.
Starter Kit: $25
Tagging Gun W/ 200 Fasteners: $18 (More Fasteners Available – Just Ask)
Starter Kit Without Gun: $15
Hangers:  $3 A Bundle Of 25
Safety Pins: $4 For A Pack Of 144 Safety Pins
Cardstock Paper: $0.10 Per Sheet
Ribbon: $1 Per Spool
Extra tagging gun fasteners are free.  There is more than one style of gun. Please know if you have a blue gun (fine tip) or grey gun (regular tip) to make sure you get the right kind of fastener.
PLEASE BRING CASH TO PURCHASE SUPPLIES. THANKS!
Email us if you would like some!