You can transfer your unsold items to the same sale just a different season or to another HWGA sale altogether.  Each easily transfers but in different ways.
A few things to keep in mind:
You need to make sure you have already registered for the sale you are transferring "To" from the HWGA website before transferring.
You can only transfer one page at a time. For more than 216 items, please repeat steps 8 & 9.
If you change a PRICE or DISCOUNT for an item, you will need to reprint the tag.
TRANSFERRING FROM A PREVIOUS SALE:
When transferring to the same sale but a different season, you can stay on the HWGA website.  
Login to your seller account.  Choose "Item Transfer" on the bottom left.  It will bring you to the page you see here. 
Use the graphics below to help you through the process: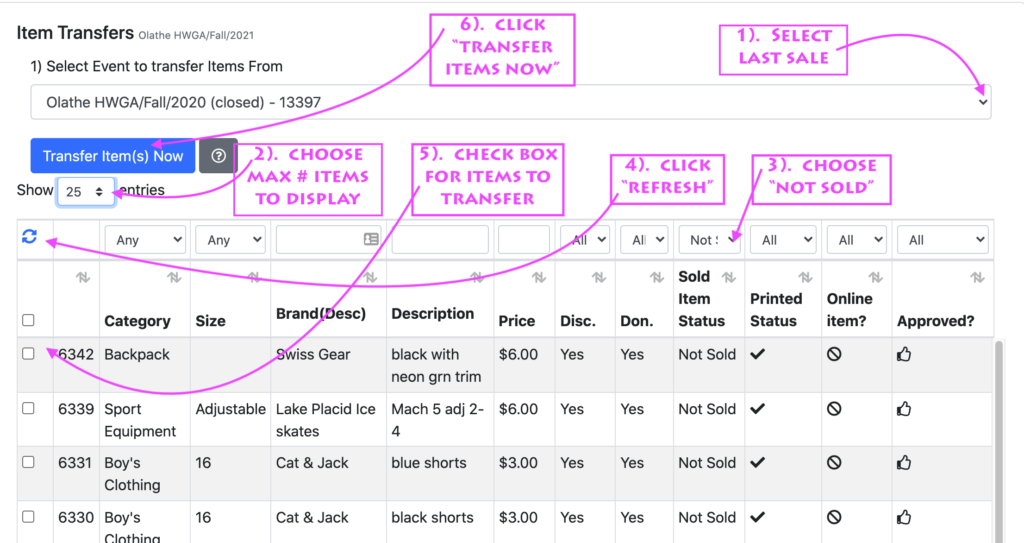 TRANSFERRING TO A DIFFERENT SALE:
When transferring to a different HWGA sale, you will need to go www.myconsignmentmanager.com.
Go to "sellers login".  Use the same username and password you use for Here We Grow Again.  It will show all the sales you've done with us.  Choose the sale with the items you want to transfer.